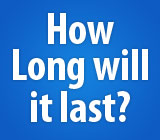 Perhaps you've been told that you need to have root canal treatment in order to save one or more of your teeth. By now, you know that the procedure itself is essentially pain-free, and that it has an excellent chance of success. But you may be wondering — just how long can you expect that "saved" tooth to last?
The short answer is: decades… or even a lifetime. But in just the same way that no two fingerprints are exactly identical, neither are any two teeth with root canals. There are some factors that could result in one tooth having a greater longevity after root canal treatment (RCT) than another — but before we go into them, let's look at what RCT actually involves.
When infection and inflammation is allowed to get a foothold deep inside a tooth — usually due to uncontrolled decay or trauma — the nerves, blood vessels and connective tissue that make up the tooth's pulp begin to die. If left untreated, the infection can spread out of the tooth and into the bone of the jaw. This may lead to further problems, including the development of a painful abscess, and eventual loss of the tooth.
Root canal treatment involves gaining access to the infected pulp tissue through a tiny hole made in the tooth, and then removing it. Next, the space inside the tooth is disinfected and filled with sterile material, and the access hole is closed. Afterward, a crown or "cap" is often needed to protect the tooth and restore it to full function in the mouth.
One factor that can influence how long a treated tooth will last is how soon the tooth is restored following the root canal procedure: The sooner it receives a permanent filling or crown, the longer it is likely to last. Another factor is whether or not the underlying infection has spread into the bone of the jaw: A tooth that has received RCT promptly, before the infection has had a chance to spread, is likely to have greater longevity.
Some of the other factors that may influence the longevity of a tooth after RTC are: the location of the tooth (front teeth are easier to treat and receive less biting force than back teeth); the age of the individual (teeth become more brittle over time); and what other work needs to be done on the tooth (such as the placement of posts, which may in time weaken the tooth's structure.) In general, however, there's no dispute that a tooth which has received a quality root canal treatment should last for many years to come — if not an entire lifetime. And to many people, there's simply no substitute for having your own natural teeth.
If you would like more information about root canal treatment, please contact us or schedule an appointment for a consultation. You can also learn more by reading the Dear Doctor magazine article "Root Canal Treatment: How Long Will It Last?"