My Blog
Posts for: November, 2013
By Daniel P. Jones, DDS, Inc.
November 25, 2013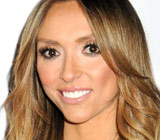 When Giuliana Rancic, long-time host of E! News, first saw her new son, she said it was "the best single moment of my life." Recently, on the eve of Duke's first birthday, the TV personality and reality star spoke to Dear Doctor magazine about her growing family, her battle with cancer — and the importance of starting her child off with good oral health.
"Duke will have his first visit with the dentist very soon, and since he is still a baby, we will make his visit as comfortable as possible," Giuliana said. That's a good thought — as is the timing of her son's office visit. Her husband Bill (co-star of the couple's Style Network show) agrees. "I think the earlier you can start the checkups, the better," he said.
The American Academy of Pediatric Dentistry concurs. In order to prevent dental problems, the AAPD states, your child should see a dentist when the first tooth appears, or no later than his or her first birthday. But since a child will lose the primary (baby) teeth anyway, is this visit really so important?
"Baby" Teeth Have a Vital Role
An age one dental visit is very important because primary teeth have several important roles: Kids rely on them for proper nutrition and speech, and don't usually begin losing them until around age 6. And since they aren't completely gone until around age 12, kids will depend on those "baby teeth" through much of childhood. Plus, they serve as guides for the proper position of the permanent teeth, and are vital to their health. That's why it's so important to care for them properly.
One major goal for the age one dental visit is to identify potential dental issues and prevent them from becoming serious problems. For example, your child will be examined for early signs of dental diseases, including baby bottle tooth decay which is a major cause of early childhood caries. Controlling these problems early can help youngsters start on the road to a lifetime of good oral health.
Besides screening your child for a number of other dental conditions or developmental problems, and assessing his or her risk for cavities, the age one visit also gives you the opportunity to ask any questions you may have about dental health in these early years. Plus, you can learn the best techniques for effectively cleaning baby's mouth and maintaining peak oral hygiene.
Breezing Through the Age-One Visit
To ease your child's way through his or her first dental visit, it helps if you're calm yourself. Try to relax, allow plenty of time, and bring along lots of activities — some favorite toys, games or stuffed animals will add to everyone's comfort level. A healthy snack, drink, and spare diapers (of course) won't go unappreciated.
"We'll probably bring some toys and snacks as reinforcements," said Giuliana of her son's upcoming visit. So take a tip from the Rancics: The age one dental visit is a great way to start your child off right.
If you would like more information on pediatric dental care, please contact us or schedule an appointment for a consultation. You can learn more about this topic in the Dear Doctor magazine articles "The Age One Dental Visit" and "Dentistry & Oral Health for Children."
By Daniel P. Jones, DDS, Inc.
November 15, 2013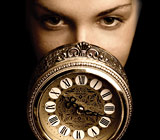 As the Baby Boomer generation moves into its 60s, more and more of us are concerned with looking younger. We do it with vitamins, diet, exercise, makeup, cosmetic surgery, and yes, even with cosmetic dentistry.
In recent years we have learned a lot about how aging affects the soft tissues and bones of your face. This has led to an approach to orthodontics that considers not only the teeth and jaws, but also the continuing growth of the bones and soft tissues of the face.
We used to think that growth stopped when people reached their late teens or early 20s. However, recent studies have shown that some kinds of growth continue throughout a person's lifetime. Your bones and facial structures change as much between the ages of 25 and 42 as they do between 18 and 25.
As you age your facial profile flattens, your nose becomes more prominent, the lower part of your face becomes shorter, and your lips become thinner. By studying these changes we have learned to consider them when planning orthodontic treatment. Modern orthodontics treats the entire face, not just the teeth.
The science of orthodontics is dedicated to slowly moving the teeth within the jaws to better functional and aesthetic positions, using standard braces or clear aligners. Sometimes the upper and lower jaws are so far out of alignment that more extreme treatment is needed. In such cases orthognathic (from ortho, meaning straight and gnathos, meaning jaw) surgery may be required to achieve the best results. Orthognathic surgery was once considered a drastic procedure, but it has become easier to manage during and following surgery and is now considered a more normal treatment option, like a facelift. Since the nose becomes more prominent as part of the aging process, the surgery is sometimes combined with rhinoplasty, or reshaping of the nose.
This new approach to orthodontics and cosmetic dentistry — taking into consideration the normal changes that occur as a person's face ages throughout life — requires teamwork among a general dentist, an orthodontist, and an oral surgeon. The results are a long-lasting change that holds back the clock on aging.
Contact us today to schedule an appointment to discuss your questions about cosmetic dentistry. You can also learn more by reading the Dear Doctor magazine article "Understanding Aging Makes Beauty Timeless."