My Blog
Posts for: March, 2014
By Daniel P. Jones, DDS, Inc.
March 18, 2014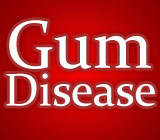 You've been doing "all the right things" — brushing, flossing, and keeping up regular office cleanings and checkups. But you're still struggling with gum disease — in fact, you've recently noticed loose teeth and other signs of infection.
While the primary cause of gum disease is dental plaque and calculus not adequately removed by regular oral hygiene and cleanings, you may also be among a small group of individuals with other risk factors that can worsen the effects of the disease. One of the most common of these factors isn't something you can do much about — the physical characteristics you inherited from your parents. In reality, some people are more genetically prone to disease than others because their body doesn't respond effectively to certain bacteria.
Chronic stress may also play a role in your body's resistance level: it can both increase your risk for the disease and magnify its effects. In addition, the type of bacteria causing the disease could be a factor — our mouths contain thousands of strains, with some bacteria more difficult to control than others.
If your gum disease persists regardless of all our best efforts, we may be able to test for whether any of these other factors are involved. Determining the presence of any of these underlying factors can help us fine-tune our treatment approach.
You should know, however, that it might not be possible to effectively address every factor involved. If that's the case, at some point it may be necessary to consider a tooth replacement option. The best choice by far are dental implants — not only are they functional and life-like in appearance, with proper care they could foster a healthier environment in your mouth by being stronger and more durable than the diseased teeth they've replaced.
Our ultimate goal as dentists is to alleviate gum disease and restore health and function to your teeth and gums. If that isn't completely possible due to uncontrollable factors, we then adopt a strategy to control the disease as much as possible to preserve your teeth for as long as is prudent. This can give you time, then, to prepare yourself mentally, emotionally and financially for future teeth replacement and restoration.
If you would like more information on periodontal disease, please contact us or schedule an appointment for a consultation. You can also learn more about this topic by reading the Dear Doctor magazine article "Periodontal (Gum) Treatment and Expectations."
By Daniel P. Jones, DDS, Inc.
March 03, 2014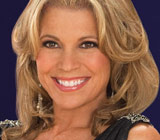 Everyone knows Vanna White as the elegant co-host of the popular game show Wheel of Fortune. But here's one thing you may not know: White is listed in the Guinness Book of World Records as television's most frequent clapper, with an average of 720 claps per show — that's over 28,000 per season! And here's something else: the star with the megawatt smile wore braces as a kid, and she's not too shy to talk about it.
"I only had to wear them for a year and it was a good experience for me," she told an interviewer for Dear Doctor magazine. But when it was time for her son to get them, White noticed something different. "We used to have those silver bands that went all the way around each tooth, and they don't have that anymore. It is fascinating to see how far they have come."
We're glad she noticed! In fact, orthodontic appliances have advanced a good deal in the past decade or so. Instead of using metal bands, brackets holding the wire part of braces are now typically attached directly to the teeth with a dental adhesive. For an even less obtrusive look, ask about using colorless brackets instead of metal ones — that way, the only part that's clearly visible is the thin wire itself. And in some situations, braces can be placed on the lingual (tongue) side of the teeth, making them all but invisible.
Another type of nearly invisible appliance is the clear orthodontic aligner. The aligner system consists of a series of precision-made transparent "trays" that fit over the teeth. Each tray is worn for a few weeks, and each moves your teeth by a small amount; together, they can help correct mild to moderate orthodontic problems. And the best part — they're really hard to notice! That makes them perfect for both adults concerned about a "professional" look, and image-conscious teens.
So if you're a TV star — or if you'd just like to have a brighter and better smile — it's never too late to get started! If you would like more information about orthodontics, please contact us for a consultation. You can learn more in the Dear Doctor magazine articles "The Magic of Orthodontics" and "Clear Orthodontic Aligners."