My Blog
Posts for: October, 2017
By Daniel P. Jones, DDS, Inc.
October 28, 2017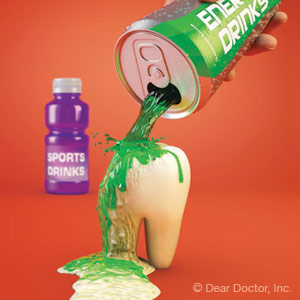 Tooth enamel erosion is a serious issue for many children that can result in permanent impairment of oral health. The problem isn't just bacterial acid that causes tooth decay — it's also the high acid content of sodas, energy and sports drinks widely popular among children and teenagers today.
Enamel is made of the strongest substance in the human body, which enables it to shield the inner layers of the teeth from disease and other environmental factors. Its chief nemesis, though, is acid: when enamel interacts with high concentrations of acid for a prolonged time, its mineral content will begin to soften and dissolve, a process known as de-mineralization. Saliva is the enamel's main protection against acid with the ability to neutralize (or buffer) acid and restore some of the enamel's mineral content, usually within thirty minutes to an hour after we eat.
The high acid content of many popular beverages, however, can overwhelm saliva's buffering ability, especially if a person is sipping for an extended time on an acidic drink. This kind of exposure is different from acid produced by bacteria that causes tooth decay: bacterial acid tends to concentrate in specific areas of the teeth, while the constant wash from acidic beverages will have a more generalized eroding effect on teeth.
This level of enamel loss is irreversible, which can leave a tooth in peril of decay and ultimate loss — and increase long-term dental care and costs. The best strategy is to have your child stop or significantly curtail drinking highly acidic beverages. Rather than drink sports beverages for hydration, substitute water, nature's hydrator. Milk can also be a viable beverage substitute.
If you do allow some acidic beverages, try to limit them to mealtimes and discourage extended sipping. Look for drinks with added calcium as this can reduce the beverage's erosive potential. The goal is to reduce the amount and duration beverage acid is in contact with tooth enamel.
Making these changes will help greatly to protect your child's tooth enamel, and give saliva a chance to do its job protecting it. Your efforts will also increase your child's chances of better dental health in the future.
If you would like more information on dental erosion, please contact us today to schedule an appointment for a consultation. You can also learn more about this topic by reading the Dear Doctor magazine article "Dental Erosion."
By Daniel P. Jones, DDS, Inc.
October 13, 2017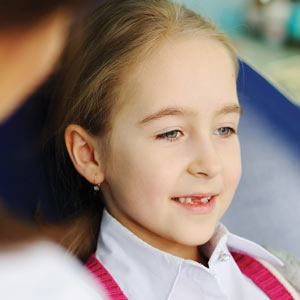 When you think orthodontics, you may instantly picture braces or clear aligners worn by teenagers or adults. But there's more to orthodontics than correcting fully developed malocclusions (poor bites). It's also possible to intervene and potentially reduce a malocclusion's future severity and cost well beforehand.
Known as interceptive orthodontics, these treatments help guide jaw growth in children while mouth structures are still developing and more pliable. But timing is critical: waiting until late childhood or puberty could be too late.
For example, we can influence an upper jaw developing too narrowly (which can cause erupting teeth to crowd each other) with an expander appliance placed in the roof of the mouth. The expander exerts slight, outward pressure on the upper jaw bones. Because the bones haven't yet fused as they will later, the pressure maintains a gap between them that fills with additional bone that eventually widens the jaw.
Functional appliances like the Herbst appliance influence muscle and bone development in the jaws to eventually reshape and reposition them. The Herbst appliance utilizes a set of metal hinges connected to the top and bottom jaws; when the patient opens and closes their jaws the hinges encourage the lower jaw to move (and eventually grow) forward. If successful, it could help a patient avoid more invasive treatments like tooth extraction or jaw surgery.
Some interceptive objectives are quite simple in comparison like preserving the space created by a prematurely lost primary tooth. If a child loses a primary tooth before the incoming permanent tooth is ready to erupt, the nearby teeth can drift into the empty space. Without enough room, the permanent tooth could erupt out of position. We can hold the space with a simple loop device known as a space maintainer: usually made of acrylic or metal, the device fits between adjacent teeth and prevents them from drifting into the space until the permanent tooth is ready to come in.
Interceptive orthodontics can have a positive impact on your child's jaw development, now and in the future. For these techniques to be effective, though, they must begin early, so be sure your child has a complete orthodontic evaluation beginning around age 7. You may be able to head off future bite problems before they happen.
If you would like more information on orthodontic treatments, please contact us or schedule an appointment for a consultation.