My Blog
Posts for: January, 2018
By Daniel P. Jones, DDS, Inc.
January 19, 2018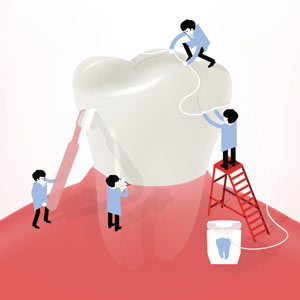 The human body's immune system has amazing defensive capabilities. Without it a common cold or small wound could turn deadly.
One of the more important processes of the immune system is inflammation, the body's ability to isolate diseased or injured tissue from unaffected tissue. Ironically, though, this vital component of the healing process could actually cause harm if it becomes chronic.
This often happens with periodontal (gum) disease, an infection of the gums caused by bacterial plaque built up on teeth due to inadequate hygiene, which in turn triggers inflammation. The infection is often fueled by plaque, however, and can become difficult for the body to overcome on its own. A kind of trench warfare sets in between the body and the infection, resulting in continuing inflammation that can damage gum tissues. Untreated, the damage may eventually lead to tooth and bone loss.
In treating gum disease, our main goal is to stop the infection (and hence the inflammation) by aggressively removing plaque and calculus (tartar). Without plaque the infection diminishes, the inflammation subsides and the gums can begin to heal. This reduces the danger to teeth and bone and hopefully averts their loss.
But there's another benefit of this treatment that could impact other inflammatory conditions in the body. Because all the body's organic systems are interrelated, what occurs in one part affects another especially if it involves inflammation.
It's now theorized that reducing gum inflammation could lessen inflammation in other parts of the body. Likewise, treating other conditions like high blood pressure and other risk factors for inflammatory diseases could lower your risk of gum disease and boost the effectiveness of treatment.
The real key is to improve and maintain your overall health, including your teeth and gums. Practice daily brushing and flossing to remove plaque, and visit your dentist regularly for more thorough cleanings. And see your dentist at the first sign of possible gum problems like bleeding, redness or swelling. You'll not only be helping your mouth you could also be helping the rest of your body enjoy better health.
If you would like more information on the relationship between gum disease and other systemic conditions, please contact us or schedule an appointment for a consultation. You can also learn more about this topic by reading the Dear Doctor magazine article "The Link between Heart & Gum Diseases."
By Daniel P. Jones, DDS, Inc.
January 04, 2018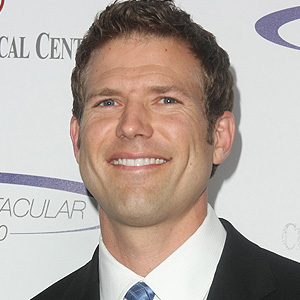 If we could go back in time, we all probably have a few things we wish we could change. Recently, Dr. Travis Stork, emergency room physician and host of the syndicated TV show The Doctors, shared one of his do-over dreams with Dear Doctor magazine: "If I [could have] gone back and told myself as a teenager what to do, I would have worn a mouthguard, not only to protect my teeth but also to help potentially reduce risk of concussion."
What prompted this wish? The fact that as a teenage basketball player, Stork received an elbow to the mouth that caused his two front teeth to be knocked out of place. The teeth were put back in position, but they soon became darker and began to hurt. Eventually, both were successfully restored with dental crowns. Still, it was a painful (and costly) injury — and one that could have been avoided.
You might not realize it, but when it comes to dental injuries, basketball ranks among the riskier sports. Yet it's far from the only one. In fact, according to the American Dental Association (ADA), there are some two dozen others — including baseball, hockey, surfing and bicycling — that carry a heightened risk of dental injury. Whenever you're playing those sports, the ADA recommends you wear a high-quality mouth guard.
Mouthguards have come a long way since they were introduced as protective equipment for boxers in the early 1900's. Today, three different types are widely available: stock "off-the-shelf" types that come in just a few sizes; mouth-formed "boil-and-bite" types that you adapt to the general contours of your mouth; and custom-made high-quality mouthguards that are made just for you at the dental office.
Of all three types, the dentist-made mouthguards are consistently found to be the most comfortable and best-fitting, and the ones that offer your teeth the greatest protection. What's more, recent studies suggest that custom-fabricated mouthguards can provide an additional defense against concussion — in fact, they are twice as effective as the other types. That's why you'll see more and more professional athletes (and plenty of amateurs as well) sporting custom-made mouthguards at games and practices.
"I would have saved myself a lot of dental heartache if I had worn a mouthguard," noted Dr. Stork. So take his advice: Wear a mouthguard whenever you play sports — unless you'd like to meet him (or one of his medical colleagues) in a professional capacity…
If you would like more information about mouthguards, please contact us or schedule an appointment for a consultation. You can read more in the Dear Doctor magazine article "Athletic Mouthguards."