My Blog
Posts for tag: dental implant
By Daniel P. Jones, DDS, Inc.
September 04, 2019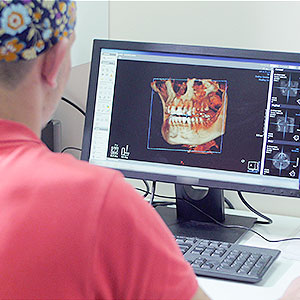 Compared to other dental restorations—a few of which have been around for over a century—implants are a relatively recent development. But even though it's just now entering its fourth decade, recent advances have catapulted implant therapy well beyond where it began.
That's due mainly to digital technology. Two examples of this, computed tomography (CT) and 3-D printing, are increasing the accuracy and efficiency of implant placement.
Properly placing an implant is one of the most important elements in achieving a natural and attractive result. But finding the best location is often difficult due to a lack of suitable bone volume, the patient's bite or the proximity of anatomical structures like nerves and blood vessels. CT imaging, especially Cone Beam CT scanners (CBCT), is helping to make implant placement planning easier.
Unlike the static, two-dimensional views of standard x-rays, CBCT takes hundreds of images and digitally blends them together to create a virtual 3-D model of the patient's jaw and face. Dentists can view this highly detailed model on a computer monitor from various vantage points and better identify possible obstructions. With better information about what "lies beneath," they can more accurately pinpoint the best implant site.
Creating the ideal plan is one thing—successfully implementing it is another. Dentists often create a surgical guide that helps them drill in precisely the right positions during surgery. The guide, which resembles a mouthguard, fits over the gums and contains marker locations for drilling.
Many dentists are now using 3-D printing to create these surgical guides. A 3-D printer turns a digital model of the guide based on measurements of the patient's mouth and proposed implant locations into an actual physical object "printed out" layer by layer of special polymer material. The end product can be more precise than guides created by other means.
These and other technological developments are helping implant therapy rise to a new level of success. With the resulting increase in accuracy, efficiency and less treatment time, tomorrow's implant patients will be the ultimate beneficiaries.
If you would like more information on restoring missing teeth with dental implants, please contact us or schedule an appointment for a consultation. You can also learn more about this topic by reading the Dear Doctor magazine article "How Technology Aids Dental Implant Therapy."
By Daniel P. Jones, DDS, Inc.
May 15, 2013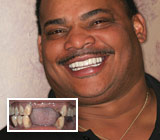 This is the story of a well-known man, fearless in most respects, who was afraid of the dentist. Even though his fears had resulted in neglect and serious damage to his teeth, modern dentistry and a talented dental team were able to restore his smile to health. If you share this fear, his story may inspire you to take action.
We're talking about William Perry, former defensive lineman and fullback for the Chicago Bears. Here is a man who could fearlessly face a football squad — but not a visit to the dentist. Nicknamed "The Refrigerator" for his 380-pound massive frame, Perry played for ten years in the NFL before retiring in 1994. Since retiring he founded and operated a construction company in South Carolina in addition to making celebrity appearances.
With his celebrity in mind, a team composed of a talented restorative dentist, implant surgeon, and lab technician agreed to give "The Fridge" a makeover. After discussing modern technology and virtually pain-free dentistry with him, they managed to overcome Perry's fears. "I had been in constant pain for many years and I neglected myself, not having had any dental care for over 20 years, not even emergency care. Unfortunately, as I grew older my teeth started to get loose," Perry told an interviewer. He had lost many teeth and became known for his gap-toothed smile.
Perry had severe gum disease and many of his remaining teeth were loose. In the past his only option would have been a full set of dentures. But his new dental team was able to place dental implants (permanent tooth replacements) supporting fixed bridges. In most cases dental bridges are attached to healthy teeth, but in Perry's case the implants served as anchors for the bridges. They also stabilized his jawbone, which would otherwise "resorb" or melt away after his teeth were lost. This is important because it helps preserve the contours of his face.
After careful planning "The Fridge" had eight dental implants placed in his upper jaw and seven in his lower. The final bridgework was completed four months later. It turned out that even though the gap between his teeth had become his trademark, "the Fridge" never really liked it. He was thrilled with his new smile.
Even if you have some fears, don't hesitate to follow Perry's example and make an appointment with us for a consultation about dental implants, smile makeovers, or bridgework. For more information about William "The Refrigerator" Perry, see the Dear Doctor magazine article "How Immediate Implants Saved 'Refrigerator' Perry's Smile."