My Blog
Posts for tag: diabetes
By Daniel P. Jones, DDS, Inc.
November 17, 2020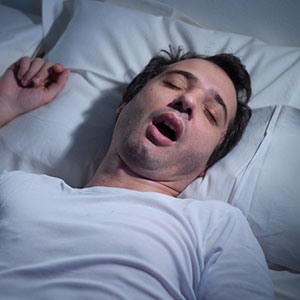 One in ten Americans has diabetes, a serious condition that may increase the development and severity of other health problems—including gum disease. Because of this latter connection, dental providers join other health professionals during November's National Diabetes Month to call attention to this chronic disease and its effect on health and well-being.
There's another health condition with a diabetes connection that isn't as well known: obstructive sleep apnea (OSA). It's also of keen interest to dental providers, as dentists are often involved in the discovery and treatment of this common sleep disorder.
OSA is the temporary blockage of the airway during sleep by the tongue or other anatomical structures. The subsequent drop in oxygen awakens the body to remove the obstruction. People with OSA may not realize they have the condition, but their bed partner can often attest to their snoring, snorting and gasping for breath during the night. Such episodes can occur several times per night, depriving the person of sufficient sleep.
Chronic OSA can contribute to the development of other health problems, among them Type 2 diabetes. It can do this first by interfering with the metabolization of glucose (blood sugar). It may also increase the body's resistance to insulin, the primary hormone regulating glucose.
Fortunately, properly managing OSA can lower your risk for diabetes, and that's where dentists may be able to help. For one thing, we dentists are often the first to notice early signs of OSA—sometimes even before our patients do.
According to the American Sleep Apnea Association, as many as 80% of the estimated 22 million Americans with OSA may not know they have it. But dentists often identify OSA indicators while examining patients: signs like an enlarged tongue or tonsils, or patients falling asleep in the exam chair. While we can't formally diagnose OSA, we often refer symptomatic patients to a sleep specialist.
Dentists also offer an alternative to the most common OSA therapy, which is continuous positive airway pressure (CPAP). This therapy employs a motorized pump that delivers pressurized air into the throat via face mask to keep the airway open during sleep. Although effective, some people find a CPAP machine noisy and uncomfortable to use.
Alternatively, dentists can provide an oral device that can often help patients with mild to moderate OSA that's worn in the mouth during sleep. Most of the various types of these appliances either reposition the lower jaw with a hinge mechanism to keep the throat open or pull the tongue away from the airway through a suction effect.
Diabetes is one part of a chain reaction that can bring unexpected challenges to your health, including to your teeth and gums. You can slow or even stop its development with proper diet, exercise and good, restful sleep. Dealing with OSA is often part of that equation—and we may be able to help.
If you would like more information about the prevention and treatment of diabetes, please contact us or schedule a consultation. To learn more, read the Dear Doctor magazine article "Oral Appliances for Sleep Apnea."
By Daniel P. Jones, DDS, Inc.
July 17, 2016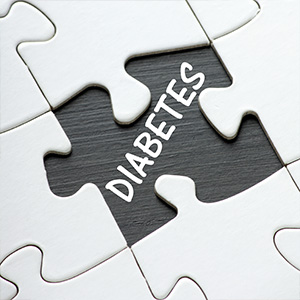 If you're one of the more than 26 million people in the U.S. with diabetes, you know first hand how the disease impacts your life. That includes your dental health — and whether or not implants are a good tooth replacement option for you.
Diabetes is actually the name for a group of diseases affecting how your body processes glucose, a simple sugar that provides energy for the body's cells. The level of glucose in the blood is regulated by insulin, a hormone produced in the pancreas. Diabetes causes the pancreas to either stop producing insulin (Type 1) or not produce enough (Type 2). Also in Type 2, the body can become unresponsive to the insulin produced.
The implications for either type are serious and can be life-threatening. If glucose levels are chronically too low or high the patient could eventually go blind, suffer nerve damage, or develop kidney disease. Diabetes also interferes with wound healing and creates a greater susceptibility for gangrene: diabetics thus have a higher risk for losing fingers, toes and limbs, and can even succumb to coma or death.
Type 2 is the most common form of diabetes. Fortunately, most people with this type can effectively manage it through diet, exercise and regular glucose monitoring; if need be, prescription medication can help regulate their levels. Even so, diabetics with their disease under control must still be alert to slower wound healing and a higher risk of infection.
Because implant placement is a minor surgical procedure, the aspects of diabetes related to healing, infection and inflammation could have an adverse impact on the ultimate success of the placement. Implant surgery creates a wound in the surrounding gum tissues and bone that will need to heal; the body's immune response in a diabetic can interfere with that process. And if infection sets in, the risks of implant failure increase.
But research has shown that diabetics with good glucose management have as high a success rate (over 95% after ten years) as non-diabetic patients. That means the implant option is a viable one for you as a diabetic — but only if you have your disease under control.
If you would like more information on the relationship between dental implants and other health conditions, please contact us or schedule an appointment for a consultation.
By Daniel P. Jones, DDS, Inc.
March 06, 2015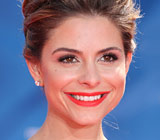 As the youngest person ever to host Entertainment Tonight, Maria Menounos, an independent filmmaker, actress, and co-host of daily entertainment news program Extra, has made a huge splash in the world of entertainment journalism. However, she is also an avid ambassador for the American Diabetes Association, a cause that is very dear to her heart because her father is a diabetic.
Her father's illness taught Menounos and her family about the importance of maintaining good general and dental health. This included a diet packed with fruits and vegetables, many of which they raised themselves. According to Menounos, they also ate little-to-no junk food. These habits still help keep the busy celebrity journalist fit and smiling with beautiful, healthy teeth.
Speaking of her smile, Menounos openly discusses her oral health in her interview with Dear Doctor magazine. She has had no major dental enhancements — not even braces — but does occasionally brighten her smile with tooth whitening. She also feels that her teeth are healthy due to the sealants she had as a child.
We could not agree more with Maria! Sealants for the tiny grooves in teeth known as "pits and fissures" are something that every parent or caregiver should consider for their children. The enamel of newly erupted teeth is more permeable, meaning that the acids produced by bacteria in the mouth can damage these teeth more easily, making them more susceptible and less resistant to decay. The good news is that dental sealants help protect teeth until the enamel has matured. Because of sealants — along with fluoride, good hygiene, and better nutrition (including less sugar consumption), tooth decay has been dramatically reduced.
If you are interested in learning more about dental sealants, contact us today to schedule an appointment so that we can conduct a thorough examination. During this private consultation, we will also discuss any questions you have as well as what treatment options will be best for you or your children. However, to learn more about dental sealants now, you can continue reading the Dear Doctor magazine article "Sealants for Children." And to read the entire interview with Maria Menounos, please see the Dear Doctor magazine article "Maria Menounos."