My Blog
Posts for tag: fluoride
By Daniel P. Jones, DDS, Inc.
August 09, 2016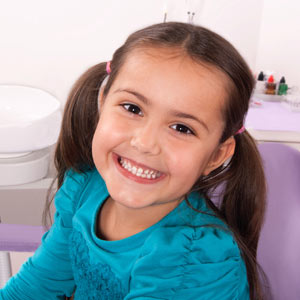 Protecting a child's primary ("baby") teeth from tooth decay should be a top priority. If one is lost prematurely due to decay, it could cause the permanent tooth to misalign when it comes in.
The basic prevention strategy for every child is daily brushing and flossing and regular dental visits. But children at higher risk for decay may need more: Â additional fluoride applied to teeth enamel during office visits.
This natural mineral has been shown to strengthen enamel, teeth's protective layer against decay, especially during its early development. Enamel is composed of calcium and phosphate minerals interwoven to form a crystalline structure called hydroxyapatite. Fluoride joins with this structure and changes it to fluorapatite, which is more resistant to mouth acid than the original structure.
We mostly receive fluoride through fluoridated drinking water and dental care products like toothpaste. Topical fluoride takes it a step further with a stronger dose than found in either of these sources. It can be applied with a foam, varnish or gel using an isolation tray (foam or gel) or painted onto the enamel (varnish or gel).
But does topical fluoride effectively reduce the occurrence of decay? Research indicates yes: a recent review of 28 studies involving over 9,000 children found an average 28% reduction in decayed teeth in children who underwent topical fluoride treatments.
There is, though, one potential side effect: children who swallow the fluoride substance can become sick and experience headache, stomach pain or vomiting. This can be avoided with proper precautions when applying it; the American Dental Association also recommends using only varnish for children younger than 6 years. It's also recommended that children receiving gel or foam not eat or drink at least thirty minutes after the treatment (those who receive the varnish aren't restricted in this way).
Topical fluoride is most effective as part of an overall prevention strategy. Besides daily hygiene and regular dental visits, you can also help reduce your child's decay risk by limiting the amount of sugar in their diet. Sealants, which are applied to the nooks and grooves of teeth where plaque can build up, may also help.
If you would like more information on fluoride gels and other clinical treatments to prevent tooth decay, please contact us or schedule an appointment for a consultation.
By Daniel P. Jones, DDS, Inc.
October 28, 2015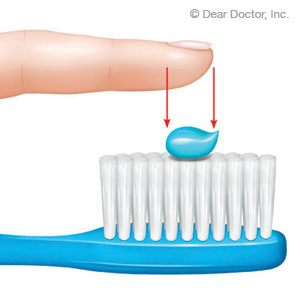 Since the 1950s fluoride has played an important role in the fight against tooth decay as an additive to hygiene products and many public water supplies. But although a proven cavity fighter, some have questioned its safety over the years.
To date, though, the only substantiated health risk from fluoride use is a condition known as enamel fluorosis, which occurs when too much fluoride is ingested during early tooth development as the mineral embeds in the tooth structure. Fluorosis can cause changes in the enamel's appearance, ranging from barely noticeable white streaking to darker visible staining and a pitted texture.
Fluorosis is primarily a cosmetic problem and not a serious health issue. The staining on otherwise sound teeth, however, is permanent and more severe cases may require extensive bleaching treatment to improve appearance. The best strategy is to prevent fluorosis by monitoring and limiting your child's fluoride intake, until about age 9.
Tooth decay is a more serious condition than fluorosis so we're not advocating you eliminate fluoride but that you keep your family's intake within safe levels. The first step is to determine just how much that intake is now, particularly if you drink fluoridated water. If you have public water, you may be able to find its fluoridation level online at apps.nccd.cdc.gov or call the utility directly.
You should also be careful about the amount of toothpaste your child uses to brush their teeth. Children under two need only a trace (a "smear") on the brush, and children between the ages of 2 and 6 a pea-sized amount. And, they should brush no more than twice a day.
Another possible concern is infant formula, especially mixable powder. While the formula itself doesn't contain fluoride, water mixed with it may. If you live in an area with increased fluorosis risk, consider breast-feeding (breast milk has little fluoride), using ready-to-feed formula, or mixing powdered formula with bottled water labeled "de-ionized," "purified," "demineralized" or "distilled."
We'll be glad to help assess your family's current fluoride intake and advise you on making adjustments to bring it into normal ranges. Taking in the right amount of fluoride assures you and your children receive the most benefit and protection from it, while avoiding future smile problems.
If you would like more information on managing your family's fluoride intake, please contact us today to schedule an appointment for a consultation. You can also learn more about this topic by reading the Dear Doctor magazine article "Tooth Development and Infant Formula."