My Blog
Posts for tag: root canal
By Daniel P. Jones, DDS, Inc.
August 14, 2021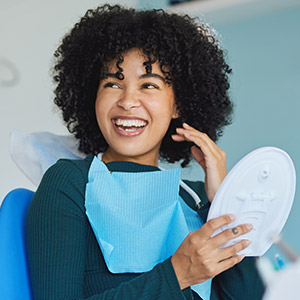 Root canals often get a bum rap. Although the procedure saves millions of teeth every year, it's often erroneously portrayed as an unpleasant experience. And if that wasn't enough, a long-discredited medical theory has found new life on the internet asserting root canals are a health danger.
First off, root canals play an immensely important role in treating teeth with advanced decay. If not promptly treated, a cavity can turn into a major infection of the interior tooth pulp and root canals, and ultimately the supporting bone. Teeth with this level of decay are not long for this world.
A root canal treatment stops this disease process in its tracks. After numbing the tooth and surrounding gums, we drill a small hole into the tooth's interior and then remove all of the infected tissue within the pulp and root canals. After disinfecting these areas, we fill them with a rubber-like substance called gutta percha.
After sealing off the access hole—and later capping the tooth with a life-like crown—the tooth is secure from further decay. And, by the way, the procedure doesn't hurt, thanks to local anesthesia. If anything, any pain caused by the decay attacking the tooth's nerves has now been alleviated.
So, what about the idea floating on the Web that root canals are dangerous? The "root" for this conjecture is a theory by Weston Price, an early 20th Century dentist, that leaving a "dead" body part in the body leads to various health problems (including cancer). That would include a root-canaled tooth, which has had the living tissue in the pulp removed.
There's just one problem—Weston's theory was fully investigated in the 1950s and overwhelmingly discredited. The supposed cancer threat was also reviewed in a 2013 study, which found no link between root canals and increased cancer risk. In fact, dental patients who had undergone several root canals had a diminished risk.
Like all other health procedures, root canals have some risks of complication. But those complications are far from life-threatening—it's tooth-saving benefits are often worth the risk. So, fear not if your dentist says you need a root canal. It won't hurt and it won't endanger your health—and it could save your tooth.
If you would like more information on root canal therapy, please contact us or schedule an appointment for a consultation. You can also learn more about this topic by reading the Dear Doctor magazine article "Root Canal Safety."
By Daniel P. Jones, DDS, Inc.
May 12, 2014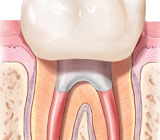 According to popular culture, a root canal treatment is one of life's most painful experiences. But popular culture is wrong — this common treatment doesn't cause pain, it relieves it. Knowing the facts will help alleviate any anxiety you may feel if you're scheduled to undergo the procedure.
A root canal treatment addresses a serious problem involving the pulp of a tooth that has become infected. The pulp is a system of blood vessels, nerves and connective tissues inside the tooth that helps the tooth maintain its vitality. It also contains a series of minute passageways known as root canals that interconnect with the body's nervous system.
The pulp may become infected for a number of reasons: tooth decay, gum disease, repetitive dental procedures, or traumatic tooth damage. Once the pulp becomes irreversibly damaged it must be completely removed from the tooth and the root canals filled and sealed in order to save the tooth.
We begin the procedure by numbing the affected tooth and surrounding tissues with local anesthesia and placing a dental dam (a thin sheet of rubber or vinyl) over the area to isolate the tooth and prevent the spread of infection to other oral tissues. We then drill a small hole in the top of the tooth to access the pulp chamber. Using special instruments, we then remove the infected or dead pulp tissue through the access hole and then wash and cleanse the root canals and pulp chamber with antiseptic and antibacterial solutions.
After additional preparation, we fill the root canals and pulp chamber with a filling especially designed for this kind of treatment, usually a rubber-like substance called gutta-percha that easily molds and compresses when heated. We then seal the access hole with a temporary filling (until a permanent crown can be fashioned) to prevent infection from reentering the pulp space. After the procedure, you may experience some minor discomfort easily managed with over-the-counter pain relievers.
You'll find the root canal treatment alleviates the symptoms prompted by the pulp infection, particularly acute pain. What's more, a successful root canal will have achieved something even more crucial to your health — it will give your tooth a second chance at survival.
If you would like more information on root canal treatment, please contact us or schedule an appointment for a consultation. You can also learn more about this topic by reading the Dear Doctor magazine article "A step-By-Step Guide to Root Canal Treatment."
By Daniel P. Jones, DDS, Inc.
April 17, 2014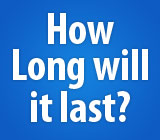 Perhaps you've been told that you need to have root canal treatment in order to save one or more of your teeth. By now, you know that the procedure itself is essentially pain-free, and that it has an excellent chance of success. But you may be wondering — just how long can you expect that "saved" tooth to last?
The short answer is: decades… or even a lifetime. But in just the same way that no two fingerprints are exactly identical, neither are any two teeth with root canals. There are some factors that could result in one tooth having a greater longevity after root canal treatment (RCT) than another — but before we go into them, let's look at what RCT actually involves.
When infection and inflammation is allowed to get a foothold deep inside a tooth — usually due to uncontrolled decay or trauma — the nerves, blood vessels and connective tissue that make up the tooth's pulp begin to die. If left untreated, the infection can spread out of the tooth and into the bone of the jaw. This may lead to further problems, including the development of a painful abscess, and eventual loss of the tooth.
Root canal treatment involves gaining access to the infected pulp tissue through a tiny hole made in the tooth, and then removing it. Next, the space inside the tooth is disinfected and filled with sterile material, and the access hole is closed. Afterward, a crown or "cap" is often needed to protect the tooth and restore it to full function in the mouth.
One factor that can influence how long a treated tooth will last is how soon the tooth is restored following the root canal procedure: The sooner it receives a permanent filling or crown, the longer it is likely to last. Another factor is whether or not the underlying infection has spread into the bone of the jaw: A tooth that has received RCT promptly, before the infection has had a chance to spread, is likely to have greater longevity.
Some of the other factors that may influence the longevity of a tooth after RTC are: the location of the tooth (front teeth are easier to treat and receive less biting force than back teeth); the age of the individual (teeth become more brittle over time); and what other work needs to be done on the tooth (such as the placement of posts, which may in time weaken the tooth's structure.) In general, however, there's no dispute that a tooth which has received a quality root canal treatment should last for many years to come — if not an entire lifetime. And to many people, there's simply no substitute for having your own natural teeth.
If you would like more information about root canal treatment, please contact us or schedule an appointment for a consultation. You can also learn more by reading the Dear Doctor magazine article "Root Canal Treatment: How Long Will It Last?"